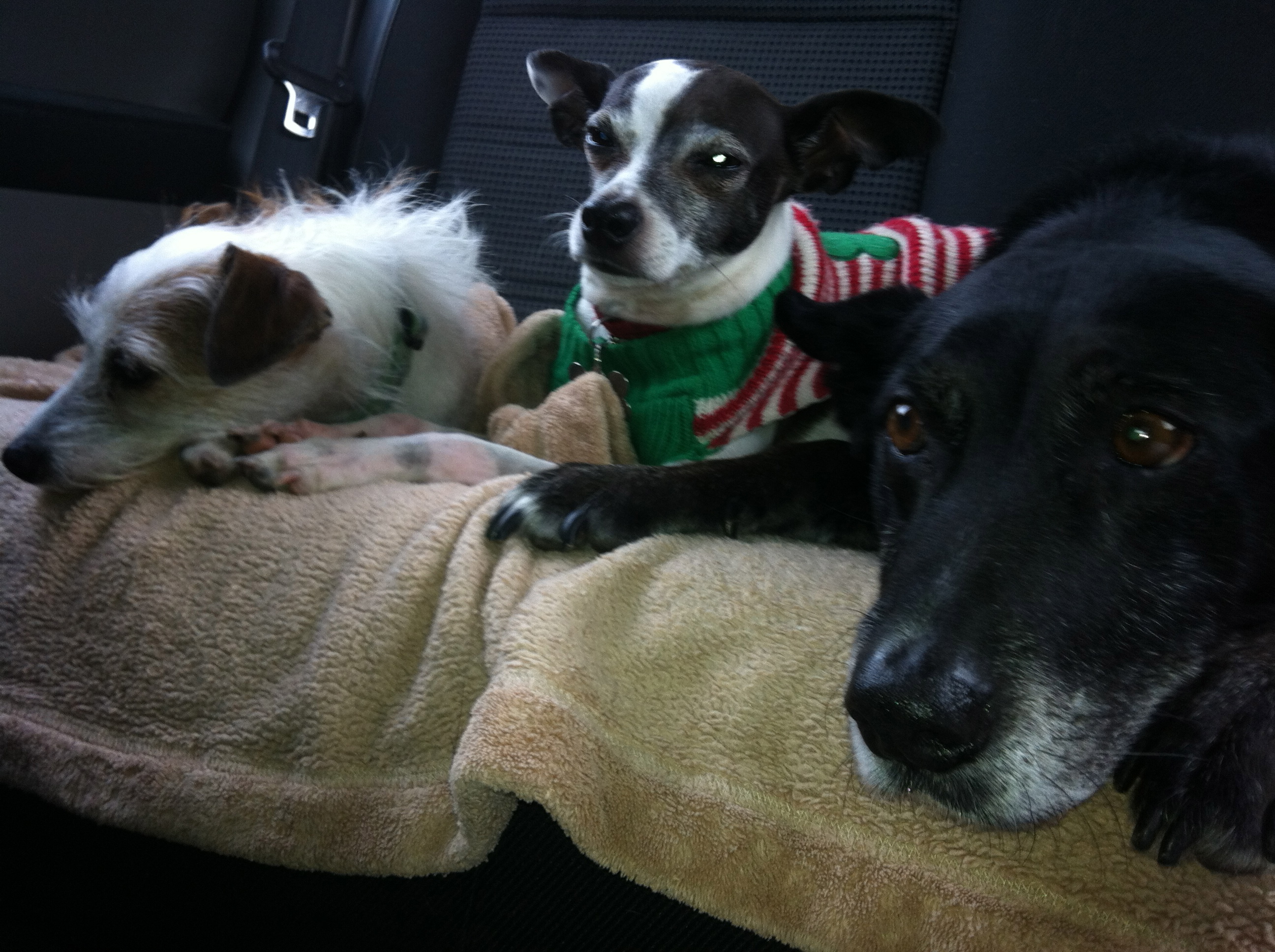 Its National Pet Day! So I figured, there's no better time to share a personal pet 'tale', bad pun intended. Being a pet lover, I knew when I opened the pharmacy I wanted to focus on veterinary medicine and offer a full range of compounded vet meds. It's taught me a lot about veterinary pharmacy, but sometimes formal knowledge can't compare to a simple Google search. This time, I believe Google and a little effort saved my dog's life…
Almost 2 years ago, I came home to a disheartening discovery. A large growth on my oldest dog's face. Nala (the black dog in the picture), our wonderful mixed rescue, that my wife acquired (before me), was thought to be about 10 at this time. We took her into the vet and he urged me to consider putting her down instead of undergoing surgery. He believed the cancer that was operated on and removed several years ago had come back, and would only worsen with time.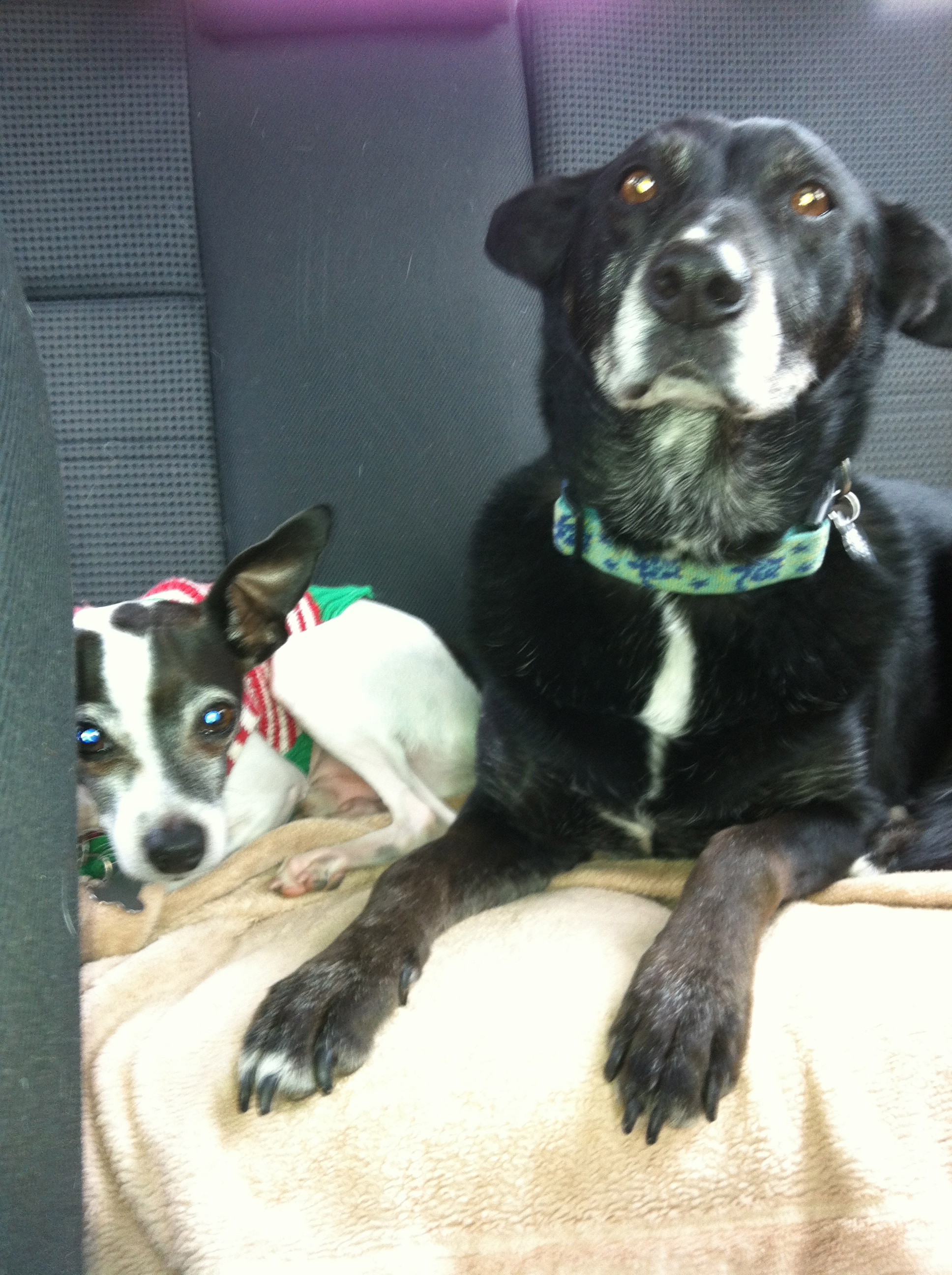 Nala was laboring horribly to get down the stairs and walking endless circles in our yard. I ignored the vet's advice, paid for surgery, and waited for the results. She made it through surgery, but the news was not good. The tumors had indeed spread throughout her face and head area and were not able to be fully removed. The vet again insisted the appropriate plan was to make arrangements to put Nala down. I was devastated….
I simply could not accept that the quickly approaching Christmas holiday would be spent without our 'entire family' together… so I picked up Nala and left the vet's office with a heavy heart and little hope. I told my wife I felt like I had an obligation to stop moping and at least try to save Nala.  As anyone with a pet knows, humans don't often get to reciprocate the undying allegiance pets provide daily. Nala had been most loyal, loving animal a pet owner could possibly hope for, and I sincerely believed that I owed her at least a valiant effort before giving in to my vet's grim advice.
I googled all sorts of combinations of "dog, cancer, cure, diet, etc" combos to research cancer diets and treatments and was literally astounded when I came upon this amazing article.
http://dog.rescueme.org/cancer
It went radically against the mainstream approach to cancer diets and supplementation that often focus heavily on the use of anti-oxidants. It seemed at once brilliant and shockingly simple in its logic. The author wisely separated the diet/treatment plans based on whether or not you were trying to treat cancer or prevent it.
Jeff Gold writes, "In the case of preventing cancer, you need to protect cells with antioxidants to prevent oxidative damage which can cause them to turn into cancer cells. In the case of treating cancer, you need to kill cancer cells with a pro-oxidant, while still protecting normal healthy cells. If you give antioxidants (normally recommended to prevent cancer) to a cancer patient, these will not only protect the normal cells, they will also protect the cancer cells!"
The diet plan for animals with cancer focused on using a pro-oxidant and switching the diet over to an oxidative diet. Fish oil was the suggested pro-oxidant. Problem being, the author claimed almost every fish oil contained anti-oxidants. I couldn't believe this as fact. I stock many high end fish oils in the pharmacy, surely one would be anti-oxidant free I thought to myself. I checked the bottles on my shelves, and surprisingly discovered each and every one did indeed contain Vitamin E, rosemary, or some other anti-oxidant. So I took the authors advice and purchased the Twinlab, Unflavored Norwegian Cod Liver Oil, that was totally anti-oxidant free.
I also purchased a bag of the Sojos grain free Turkey (and later the Beef as well) and got rid of the dry dog food I was previously feeding Nala. I switched over all her treats to grain free, high protein products as well. I had friends with veterinary backgrounds laugh at the idea, and tell me I should let her enjoy her last meals and get ready to say goodbye. I've always believed in the age old "you are what you eat" philosophy, so maintained this was worth a shot.
My wife and I mixed up her grain free Sojos daily and would pour the Twinlab fish oil over the bowl. Over the next few weeks we noticed Nala's symptoms start to resolve. She was no longer struggling to get down the stairs. She could hop up into the car on her own again. She stopped circling the yard. Unbelievably, she was getting definitively better! It was undeniable. Today, Nala is still with us and doing fantastic!
I feel a great deal of gratitude for the ideas and approaches shared by Mr. Gold in the article. Not surprisingly, I've read things in medical literature that not only back Mr. Gold's approach for canines, but have also implicated that it may be a smart approach for humans as well.
http://consumer.healthday.com/vitamins-and-nutrition-information-27/antioxidants-news-32/antioxidants-and-cancer-684323.html
Personally, I believe the approach is not only a logical veterinary plan, but could have the potential to effect human cancer treatment plans in the future.
Below are links to the products he mentions:
Link to the Norweigan fish oil:
http://www.amazon.com/gp/product/B0009EXPW2/ref=oh_details_o03_s00_i00?ie=UTF8&psc=1
Link to the Sojos Grain Free Beef:
http://www.amazon.com/Sojos-Complete-Beef-Dog-Food/dp/B004K2M5OI/ref=sr_1_cc_2?s=aps&ie=UTF8&qid=1395719720&sr=1-2-catcorr&keywords=sojos+grain+free+beef
Link to the Sojos Grain Free Treats:
http://www.amazon.com/Sojos-Grain-Free-Treats-Cherry-Ounce/dp/B0012KFZDO/ref=sr_1_cc_1?s=aps&ie=UTF8&qid=1395719794&sr=1-1-catcorr&keywords=sojos+grain+free+treats
Thank you to Mr. Jeff Gold and everyone else at Rescue Me! for the work they do to give dogs with similar terminal prognosis's a second chance. I wholeheartedly believe I have them (and Google) to thank for my beloved dog's current company.
Kris