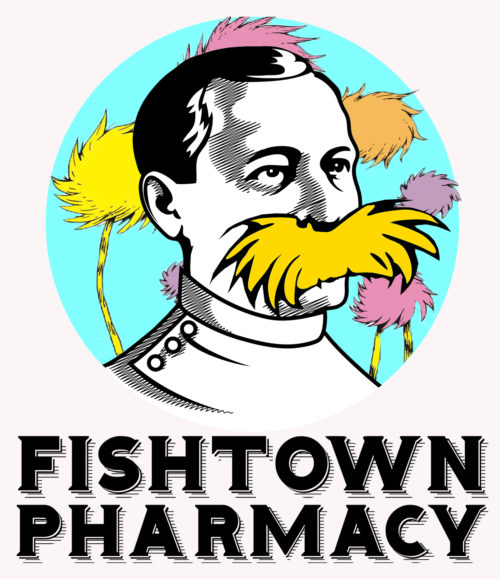 I've always loved Halloween a little more than most folks, and am excited to start what I intend on being be an annual tradition at the pharmacy. In the spirit of Halloween, the pharmacy will "dress up" as a classic children's book as its costume.
What does that mean? We've converted the pharmacy into a book-themed play stop where kids can take a picture in our makeshift 'photo booth.' The Lorax is one of those amazing books that transcends time and remains endlessly relevant. The book feels just as impactful to read to my kids today, as it was to have read to me when I was their age.
Rx Lorax will kick off this Saturday, October 22nd and run through Saturday, November 5th.
But we're more than just a pretty…costume. I will donate $5 for every kid's picture taken in the Lorax photo booth to By My Side Parenting. I'll double the donation to $10, if the picture is posted on your Facebook page, Twitter or Instagram with Fishtown Pharmacy tagged along with the hashtag #RxLorax. If a family transfers a prescription in from another pharmacy, I will donate an additional $20 (this transfer donation will be limited to one per household).
100% of the funds raised in this campaign will be donated to By My Side Parenting. By My Side Parenting is a grassroots, nonprofit parenting program that provides support for children and families in Fishtown and Kensington. As a neighborhood pharmacy, we want our events and promos to tie into and benefit our community as much as possible. If you want to learn more about By My Side Parenting, please check out their website at http://bymysideparenting.org/.
I hope Rx Lorax will provide a unique opportunity for me to interact with the community, and introduce myself, the staff, and the pharmacy to all of you.
#RxLorax
Facebook: Fishtown Pharmacy
Twitter: @fishtownpharma
Instagram: @fishtownpharmacy